Arlington Business Woman Makes Product Demonstration Her Forte

By M.B. Toboada

Staff Writer of the Arlington Morning News

When Lynda Childs started At Your Service Marketing, an in-store product-demonstration company she had not actually seen a demonstration before. But after 12 years as head of the Arlington-based company, she has had hundreds of clients and provides in-store promotions for them every week. The company, which operates out of a South Arlington shopping center, Was founded in 1985 and serves various brokerage and marketing companies throughout Texas and bordering states. "We go in grocery stores or other stores like Wal-Mart or Foley's and hand out samples of products or give out coupons," Ms. Childs said. Companies hire At Your Service Marketing to promote their product in a store, do store resets in which her employees reorganize her clients' products within a store, or make sure various stores are carrying the clients' products. The demonstrators hand out a range of products, from pizza to perfume samples. The amount of work depends on the businesses selling the product, but typically they request in-store demonstrations to be performed on weekends," Ms. Childs said. "The demo business is very unpredictable," said Janie Thomas, an office employee. "One week we could work 15 different projects. The next week we could work two projects. It varies." Ms. Childs has more than 1,000 demonstrators working for her company and calls their occupation "part-time permanent occasional work."

"Most [companies] do not have facilities to manage the labor pool that it takes to manage that sort of business," Ms. Childs said. " It takes a lot of time and demonstrators. We provide a good service for them."

At Your Service Marketing – and other promotion companies like it – are crucial to the retail industry," said Dan Raftery, a national food distribution industry analyst.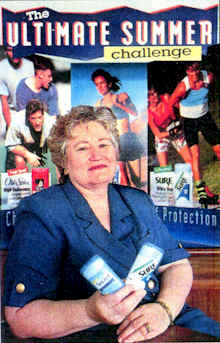 "In-store demos are rated very high as far as effectiveness alone or in conjunction with other promotions," said Mr. Raftery, president of Prime Consulting Inc. in Bannockburn, Ill. "With extremely brand-loyal shoppers, this is how they get them to try their product."

The end result almost always guarantees an increase in product sales, he added.

Product Marketing and Demos of Texas has used Ms. Childs' service for six years, said founder, Glen May. At Your Service Marketing provides sub-contractors for May's company in Houston, San Antonio, the Arlington-D/FW area, Central Texas and Louisanna.

:Of allthe subcontractors I work with, she is the very best," said Mr. May, whose company has existed for seven years.

Through Mr. May's company Ms. Childs provided demonstators for Lipton, Lawry and Wishbone products. Her demonstrators work in several grocery store chains, including Albertson's, Minyard Food Stores and Kroger Food Stores.

"She does a good job," Mr. May said.

At Your Service Marketing sustains a 20 percent growth rate in sales annually, Ms. Childs said. But she requested that her gross annual revenue not be disclosed.

"This work is challenging, and I enjoy a challenge," Ms. Childs said. "We work hard at what we do and at doing it right."